Australian Consulate-General in Bali on Twitter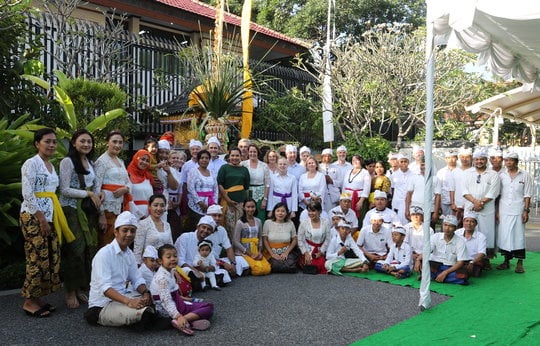 Australian Consulate-General in Bali - Odalan Ceremony 2018.
Message from the Consul-General in Bali
Welcome to the website of the Australian Consulate-General in Bali. This website outlines important information for Australians travelling to or living in Bali and West Nusa Tenggara (NTB), including how to contact the Consulate-General and the range of consular and passport services available. We also provide a limited range of consular services to Canadian citizens. Information on Australian visas and citizenship is also available on this website.

I urge all Australians planning to travel to Bali or NTB, as well as all resident Australians, to:

Check the smartraveller.gov.au website for the latest travel advice on Indonesia, including general advice on security and health matters. You can also subscribe to automatically receive email updates whenever the travel advisory is changed.

Register on-line so that in the event of an emergency, such as a natural disaster or a family emergency, we can contact you.

Ensure that each person travelling in your party (including children) is covered by adequate travel insurance. While Bali and NTB offer a great array of experiences and activities, it is important that your travel insurance covers everything you could potentially engage in.

Carefully read the advice under Services for Australians and ensure that people travelling in your party are aware of the potential problems that may be encountered.
Consul-General
2018 Victorian State Election
The Victorian State Election will take place on Saturday 24 November 2018.
The Australian Consulate-General in Bali will be running an early voting centre between 12 and 23 November for the upcoming Victorian State Election on 24 November. We will be open Monday to Friday, 8am to 4pm (most days) during the early voting period. Please note we will not be open on 20 November 2018.
Please check your enrolment status before attempting to attend the consulate to vote. Visit www.vec.vic.gov.au to check your enrolment.
The Australian Consulate-General is not in a position to confirm your eligibility.
Postal vote:
Voters in Bali will also be able to apply to have a postal vote sent to you. You can apply online for a postal vote from Wednesday 31 October which will be emailed to you. Visit www.vec.vic.gov.au for more information.
Returned votes must be sent back to Australia postmarked before 6.00 pm on Saturday 24 November and received no later than 6.00 pm on Friday 30 November in Australia.
In person:
Australian Consulate-General Bali Polling Centre:
Jl Tantular 32, Renon, Denpasar, Bali 80234.
Date & Time:
12 to 24 November 2018: 8:00am to 4:00pm
(Closed Saturday 17 November, Sunday 18 November and Tuesday 20 November)
* POLLING WILL NOT BE AVAILABLE ON ELECTION DAY 24 NOVEMBER.
Contact Victorian Electoral Commission, please click here.
Direct Aid Program for 2018 – 2019
Applications are currently being considered for the 2018-2019 financial year. Applicants will be advised the outcome as soon as possible.
The Australian Government is launching a new campaign to prevent Australians from inadvertently contributing to child exploitation through the practice of orphanage tourism, including by participating in misleading volunteer programs.
Message from the Minister for Foreign Affairs
When it comes to volunteering, Australians are generous people. Australian volunteers selflessly give their time, money and lend their skills and experience to help others across a range of countries and sectors.
Australia has a long and proud history of volunteering, with the Australian Government supporting international volunteering for more than 60 years.
We have learned over the years that when done well, volunteering will benefit both the volunteer and the communities they serve and build enduring friendships and people-to-people links.
Research has shown that orphanage tourism (holiday tours and short-term un-skilled volunteering at orphanages) can encourage harmful practices, and can, in some cases, put vulnerable children at risk. The number of orphanages in certain popular tourist destinations has increased dramatically yet many of the children living in them have at least one living parent. The quality of care varies dramatically. The worst orphanages retain and exploit children with the aim of making money. Orphanages should be an option of last resort for children, who are generally better off living with their families and communities.
For these reasons, the Australian Government discourages short-term, unskilled volunteering in orphanages.
When planning to volunteer overseas, I encourage Australians to:
Be an informed volunteer
Be a child safe volunteer
Be a prepared volunteer
The Hon Julie Bishop MP
Minister for Foreign Affairs
More information
After hours emergency contact
FOR EMERGENCIES ONLY, Australian and Canadian citizens requiring urgent assistance outside normal Consulate-General office hours, including weekends and public holidays:
Call (+62 361) 2000 100. Follow the instructions (press 4, wait for the information recording to begin and then press 6), this will connect you to the 24 hour Consular Emergency Centre in Canberra.

Alternatively, call the Consular Emergency Centre in Canberra directly on (+61 2) 6261 3305.

Non urgent enquiries can be made by email to bali.congen@dfat.gov.au