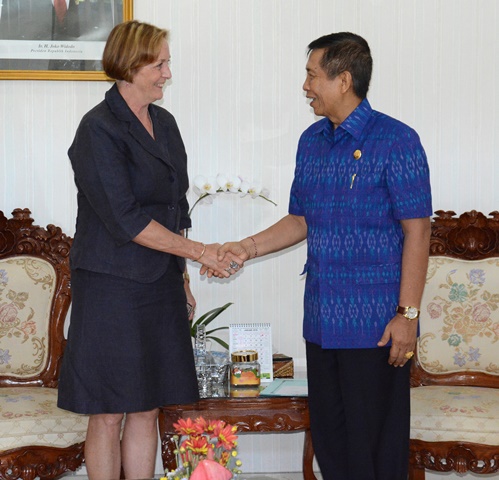 Australian Consul-General in Bali, Dr Helena Studdert with the Governor of Bali, Drs I Made Mangku Pastika AO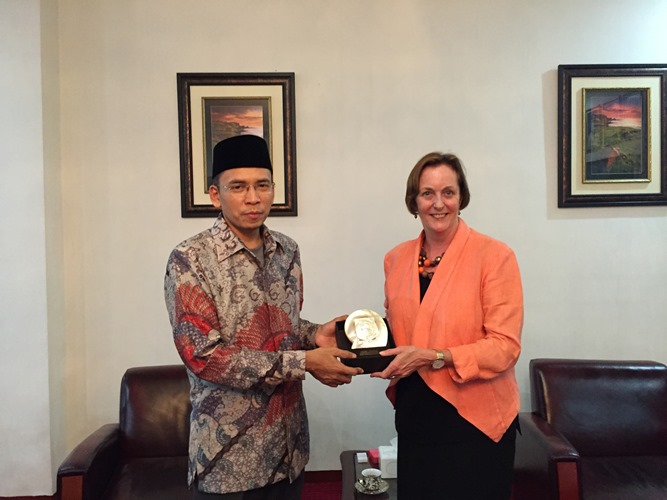 Australian Consul-General in Bali with the Governor of West Nusa Tenggara (NTB), Dr K.H. TGH. Muhammad Zainul Madji
Message from the Consul-General in Bali
Welcome to the website of the Australian Consulate-General in Bali. This website outlines important information for Australians travelling to or living in Bali and West Nusa Tenggara (NTB), including how to contact the Consulate-General and the range of consular and passport services available. We also provide a limited range of consular services to Canadian citizens. Information on Australian visas and citizenship is also available on this website.

I urge all Australians planning to travel to Bali or NTB, as well as all resident Australians, to:

Check the smartraveller.gov.au website for the latest travel advice on Indonesia, including general advice on security and health matters. You can also subscribe to automatically receive email updates whenever the travel advisory is changed.

Register on-line so that in the event of an emergency, such as a natural disaster or a family emergency, we can contact you.

Ensure that each person travelling in your party (including children) is covered by adequate travel insurance. While Bali and NTB offer a great array of experiences and activities, it is important that your travel insurance covers everything you could potentially engage in.

Carefully read the advice under Services for Australians and ensure that people travelling in your party are aware of the potential problems that may be encountered.
Consul-General
Direct Aid Program for 2016 - 2017 - call for applications
The Direct Aid Program is a flexible small grants scheme funded by the Australian Government and administered by the Australian Consulate-General in Bali. The Consulate-General is pleased to invite interested non-government organisations (NGOs), Yayasans and community groups to submit proposals that support community development in the provinces of Bali and West Nusa Tenggara.
Guidelines and application forms for the 2016-17 DAP grants are attached. For further enquiries please contact DAP.bali@dfat.gov.au or call (0361) 2000 100.
The deadline for applications is Wednesday 31 August 2016.
Consular, Notarial and Passport Services
Applications for passports and for notarial services are by appointment only. Appointments can be made between the following times:

Monday 1.00pm - 4.00pm
Tuesday 8.30am - 12.00pm and 1.00pm – 4.00pm
Thursday 8.30am - 12.00pm and 1.00pm – 4.00pm
Friday 8.30am - 12.00pm

To make an appointment please contact (0361) 2000 100 and select the consular option or email bali.congen@dfat.gov.au

Clients who present at the Consulate-General to submit a passport application or for notarial services without an appointment will be asked to make an appointment and to then return at the appointed time.

Access to the Consulate-General for urgent consular matters and emergency passports is still permitted, pending availability of a consular officer.

Important Passport Announcement - How to lodge your passport application
All Australian citizens must lodge their passport application in person. Commencing 1 June 2015 overseas missions are no longer able to accept applications by mail or courier, nor applications lodged via another authorised person. This helps us to protect you, by protecting the security and integrity of your Australian passport and brings overseas missions into line with existing passport policies in Australia. Please contact us on the numbers listed above for further advice or to make an appointment to lodge your application.
Please note that child applications should be lodged in person by a parent or person with parental responsibility for the child. The parent or person lodging the application is not required to be an Australian citizen, but will need to bring photographic proof of their own identity to the appointment.
Travel Advice

• Indonesia
http://www.smartraveller.gov.au/zw-cgi/view/Advice/Indonesia
After hours emergency contact
FOR EMERGENCIES ONLY, Australian and Canadian citizens requiring urgent assistance outside normal Consulate-General office hours, including weekends and public holidays:
Call (+62 361) 2000 100. Follow the instructions (press 4, wait for the information recording to begin and then press 6), this will connect you to the 24 hour Consular Emergency Centre in Canberra.

Alternatively, call the Consular Emergency Centre in Canberra directly on (+61 2) 6261 3305.

Non urgent enquiries can be made by email to bali.congen@dfat.gov.au
Current Issues
For up-to-date information on current bilateral issues.

Travel Advisory for Indonesia.
Visas
All information regarding visas and migration in Indonesia can be found on the Indonesian Visa and Migration page (in English). This includes links to information about visa applications, and contacting the Australian Embassy in Jakarta.